About us
Goals for children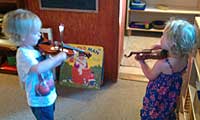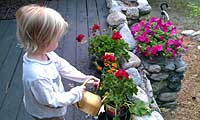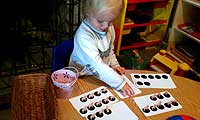 We help our children become:

* Self-Directed Learners
Children have a natural love for learning. We focus on helping children learn how to learn, so they become intrinsically motivated to do so, and retain their zest for knowledge throughout their lives.
Teachers are there to observe, to listen, and to assist when necessary, but we support the child to work independently and let his interests and talents guide him. In the words of Maria Montessori, "The greatest sign of success for a teacher is to be able to say, 'The children are now working as if I did not exist' ".

* Flexible Thinkers
Developing the ability to think in a flexible way, and to adapt to one's surroundings, was something Maria Montessori valued greatly: "The person who is developing freely and naturally arrives at a spiritual equilibrium, in which he is master of his actions, just as one who has acquired physical poise can move freely. When he is master of himself he is also flexible in his attitude towards others, and capable of adaptation to the wishes and requirements of others, and of 'give and take' ".

* Empathic Citizens
It is important to us that children grow to be confident, successful, and self-assured individuals, but equally important that they possess empathy and respect for others. Children who develop a social conscience, compassion for others, and a sense of responsibility towards others will change the world for the better, and we work every day to ensure that happens.

* Resilient Individuals
Every child experiences disappointment and failure as he learns and grows, but the way he is helped to respond to these difficult times is key. A resilient child looks at mistakes and disappointments as opportunities to learn, rather than setbacks, and as a result, he approaches life with enthusiasm and confidence. Building resilience is an important part of our work at Idyllwild Montessori.