About us
Educational Philosophy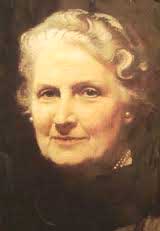 During the early years of the 20th Century, Dr. Maria Montessori observed and worked with children in Italy at Casa dei Bambini (Children's House) and concluded that the early years of life are crucial to the functioning and growth of the individual. Children are enormously capable beings.
Montessori believed that children are sensitive to different kinds of learning at different times in their development. She called these "the sensitive periods."
Thus we create environments to develop order, independence, coordination and concentration. We provide materials that respond to the individual needs.
The design of the classrooms helps in the creation of these environments.

The Montessori method has been and is very popular around the world with early childhood professionals and parents. The Montessori approach is designed to support the natural development of children in a well-prepared environment. Five basic principles fairly and accurately represent how Montessori educators implement the Montessori method in many kinds of programs across the United States. These principles include:
1. RESPECT FOR THE CHILD
2. THE ABSORBENT MIND
3. SENSITIVE PERIODS
4.THE PREPARED ENVIRONMENT
5. AUTO-EDUCATION


The Teacher's Role
Montessori believed that "it is necessary for the teacher to guide the child without letting him feel her presence too much, so that she may be always ready to supply the desired help, but may never be the obstacle between the child and his experience" (Montessori, 1967). The Montessori teacher demonstrates key behaviors to implement this child-centered approach: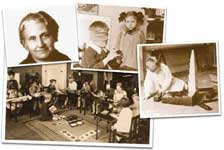 * Make children the center of learning
* Encourage children to learn
* Observe children
* Prepare the learning environment
* Respect each child
* Introduce learning materials




In the USA, most private schools have a primary program (from 3–6 years) and often a lower elementary (6–9 years), as well as the upper elementary programs (9–12 years). American Montessori Society- AMS and Association Montessori International- AMI/USA provide guidance for training courses, affiliate Montessori societies, publish Montessori magazines.